Did you know TerraPrints.com has an altar ego?
It goes by the name of TerraPrints-Classic.com and if you appreciate maps, you're gonna love this!
The Terra Prints - Classic Store represents a massive selection of antique maps, held in original form by the U.S. Library of Congress.  These maps have been digitized via state of the art, high resolution flatbed scanners and reproduced here using the finest archival inks and paper available.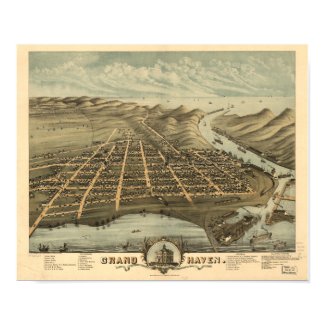 Our selection includes: Ancient World Maps; Panoramic "Bird's eye view" American and Canadian City Maps; Victorian Era Map Illustrations and Murals.  You can also find Antique National Park Illustrations, US Railroad Maps, and antique atlases from Australia, Antarctica, Asia, Africa and Europe.
All Terra Prints - Classic products are available in sizes ranging from portfolio prints, perfect for executive gifts and office walls, to colossal murals suitable for large lobbies, foyers and museum exhibits. Additionally, you can choose from an endless array of custom framing and printing material options.
To me, the most interesting and certainly most popular with buyers, are the hand-drawn aerial view panoramas.  Keep in mind, we're talking maps made in the later half of the 1800s and early 1900s, before planes, before satellites, and certainly before aerial drones and GoPro cameras.  Yet these maps gave the viewer an incredibly accurate look at their city from an angled aerial view!  How did they do it?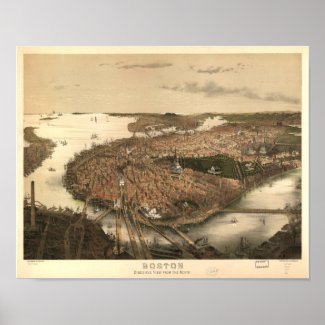 Creating a panoramic map was an enormous task that took a commissioned map maker months to complete. The artist would build a map through a series of panels broken down by streets, rivers and hills. He would literally walk down the street sketching buildings, trees, people and landmarks to create each individual panel. Once all the panels were joined together, an incredibly detailed panoramic covering an entire city unfurled. 
Known also as bird's-eye views, perspective maps, and aero views, panoramic maps are non-photographic representations of cities portrayed as if viewed from above at an oblique angle. Although not generally drawn to scale, they show street patterns, individual buildings, and major landscape features in perspective.  At TerraPrints-Classic.com , we offer over 1,200 of them, covering the vast majority of populated towns in 19th Century America.
I bet you will find an amazing view of your town as it was over 100 years ago at terraprints-classic.com .